Our Staff – Lummi Tribal Sewer and Water District
The District employs 94% Native Americans most of whom are Lummi Tribal members. Two Native American employees have been with the District more than 30 years.
 District Manager – Charles Anderson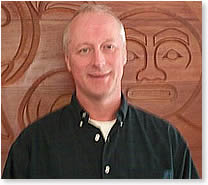 Chip Anderson was appointed Lummi Tribal Sewer and Water District Manager in 2013.  Chip has over 20 years of Utility and Public Works experience. He previously worked as Public Works Operations Manager City of Snohomish for the, Senior Planner for Whatcom County Public Works and Operations Coordinator for Lake Whatcom Water and Sewer District.
Chip has BS degree in Biology from State University of New York at Fredonia and an AAS in Fisheries and Wildlife Management form The State University of New York at Cobleskill.  Chip is certified by the Washington State Departments of Health and Ecology and as a Water Treatment Plant Operator 3, Water Distribution System Manager 3, Cross Connection Control Specialist and a Certified Erosion and Sediment Control Lead.
District Manager Executive Assistant
Leslye
Administration:
Coleen, Office Manager
Justina, Accounts Specialist
Tami, Accounts Specialist
Cathalina, Accounts Specialist
Sewer Operations:
Brad S, Sewer Operations Supervisor
James S, Utility Operator
Ivan W, Utility Operator
Pete T, Utility Operator
Brian G, Utility Operator
Wastewater Operations:
Daniel J, Lab Technician/Utility Operator
Water Treatment and Operations:
Victor S, Water Systems Supervisor
Bobby L, Utility Operator
James (Jim) Qway-Eleq G, Utility Operator